This is what my desk looks like on most days (some days it's neater ;):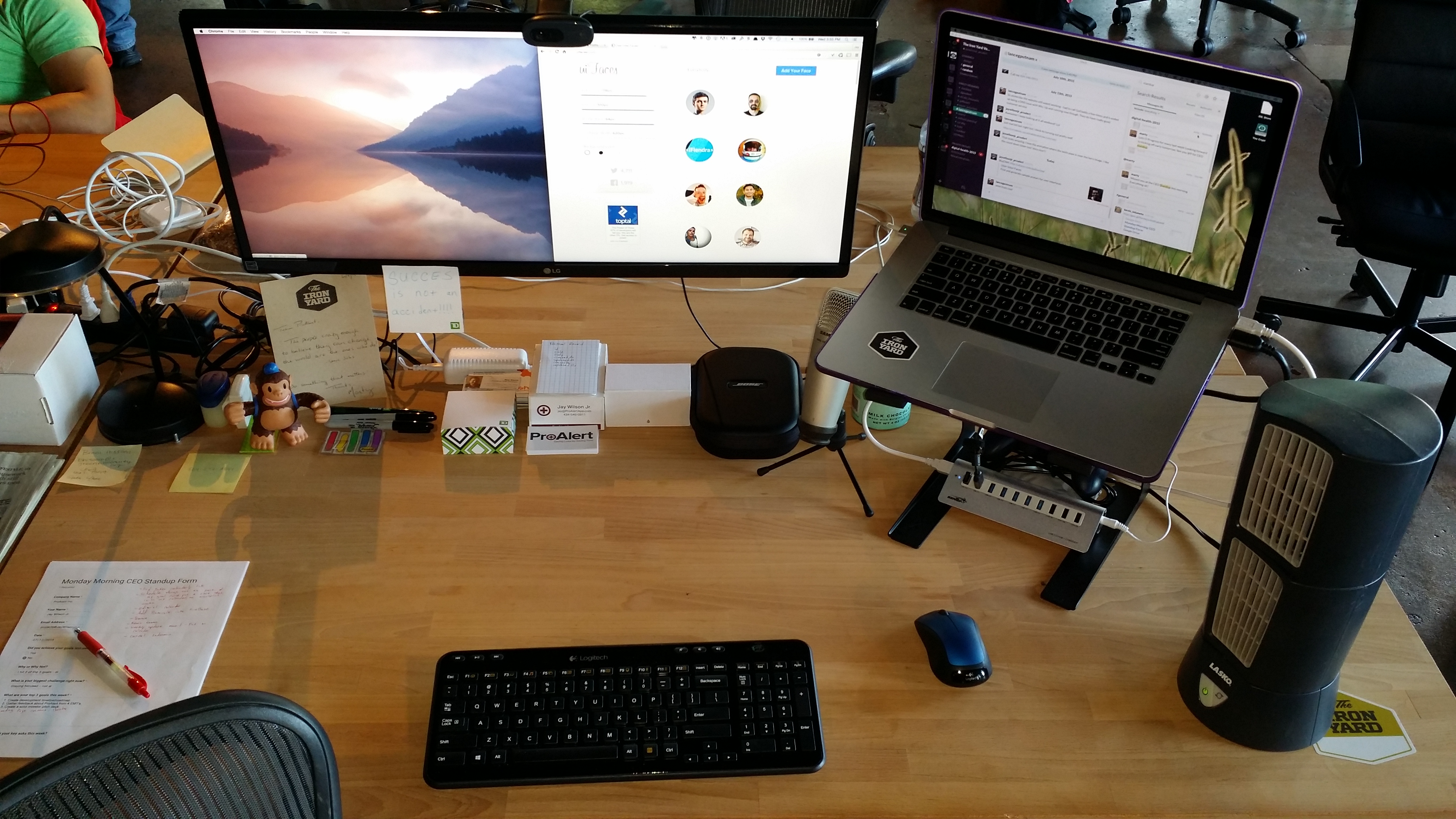 I am in love with this setup, I do my best work at this desk. Every developer has a space that they work from. Some just sit their MacBook on their lap and start coding, other have a spot they prefer to work from. Some others like myself have a desk, and a spot they like to work from.
When I get tired of sitting at my desk, I usually move a few feet down to a standup desk. Once I tire of standing I'll plop on a comfy couch and work a bit more. I am also a fan of working from the coffee shop from time to time. Anyway, let's get back to my desk and the things I consider must haves...
Keep in mind that worked for years without being able to afford and of the so called "must-haves". So clearly you can work just fine without them, I just throughly enjoying working with the things below:
My Monitor
Of course I have the 15" retina display built into my MacBook, but aside from that I have a 29" LG Ultra Wide external monitor. Prior to purchasing this monitor I had a 22" external monitor. After working from a ultra wide monitor I can't go back to a normal 6:9 display. The ultra wide display is 16:21 it's like having 2 monitors in one. Usually I have the display split into 3 sections. My editor on one, terminal on one, and Chrome open in the last. This setup allows me to code and view my changes live in Chrome. No switching between programs. Usually on the MacBook I have spotify open and I only pop over to that screen to change up my music.
I have the monitor mounted on a adjustable arm that puts the monitor right at eye level from me. This was very important to me, as my back and neck started hurting a few months back and it ended up being from sitting on the couch for hours on end looking down at my MacBook screen. Who would have thought something so simple would have caused such problems for me? Now that I have the screen at eye level it has eliminated all the pain I was experiencing.
My Accessories
I have my MacBook sitting on a adjustable stand that places the MacBook screen right at eye level also. I purchased the stand from about $20 bucks on amazon. It's actually a stand that is made for DJ's to hold a turntable on, but it works perfectly for holding my macbook. I have been using it for about 4 months now and love it!

My USB hub - this is a absolute must have. The MacBook Pro only has 2 usb ports, so you have to have a hub to avoid constantly plugging and unplugging devices. I have a 10 port USB hub, and have my wireless keyboard and mouse plugging in. I also have my USB microphone, external webcam, and a x-box controller plugged in. 3 of the ports are powered, meaning they put out the same voltage a wall charger would. I charge all my devices from these ports. (mainly my cell phone, and battery packs) Of all my accessories this is one I rely on the most.

My fan - being a man of size, lol I get hot faster than some, and having a fan on my desk helps keep me cool. I hate it when I working somewhere and I'm hot. I start wishing I had my fan. This is a life saver to me, even in it's highest setting it is super quiet and really blows out some air. I think I picked this up from Lowes or Wal-Mart 2-3 years back.

LED Lamp, I love this lamp. It provides just enough light to light the area of my desk that I need to write and work from. I usually cut the lights in the room off, and just use my lamp to light my desk. I have been thinking of mounting some LED strip lights underneath my monitor and letting them shine down onto my desk. That is a project for a upcoming weekend.

USB Mic - perfect for recording screencasts and podcasts. I have owned this mic for about 4 years now and it has been up and down the east coast with me and has held up. It works great, and I love it. The audio quality is much better than that of the built in mic in the MacBook.

Headphones - Bose QC25 noise cancelling headphones. I LOVE LOVE LOVE these, they are the best noise cancelling headphones I have ever owned and they are very light and comfortable to wear for hours on end. In the picture above you can see them sitting on my desk in the black case underneath my monitor. (well you can see the case that they are in atleast)
The wrapup
Well I could write some more about my work station, and how much I dig it. However, all good things come to a end, or so they say. I'd love to see your work station or if there is a item that you think would make me more productive and/or make my life better please tell me about it.
Every time I sit at my desk I am in awe, I remember all the years that I worked and could not have afforded any of the things on my desk today (including the MacBook Pro). The items on my desk are a visual reminder of the things that God has done for me, and the doors that he has opened for me.
Until next time....